Mainland China suspended natural sand exports to Taiwan, while also blocking imports of Taiwanese citrus fruits, chilled white scallops and frozen mackerel
US House Speaker Nancy Pelosi defied repeated warnings from Beijing over her trip to Taiwan and landed on the self-ruled island on Tuesday
Mainland China expanded its trade suspensions on Taiwan to include natural sand and additional agriculture products in the latest retaliation to the highly controversial visit by US House Speaker Nancy Pelosi to the self-ruled island.
China's Ministry of Commerce suspended natural sand exports to Taiwan, effective from Wednesday, hours after Pelosi landed on Tuesday night.
The General Administration of Customs also suspended imports of citrus fruits, chilled white scallops and frozen mackerel from Taiwan. It cited the detection of pests in fruit shipments and positive coronavirus tests in the cold supply chain as the reasons when confirming the bans on Wednesday.
The latest moves follow bans on imports of Taiwanese confectionery, biscuits, bread and aquatic products that were imposed in the lead up to Pelosi's visit.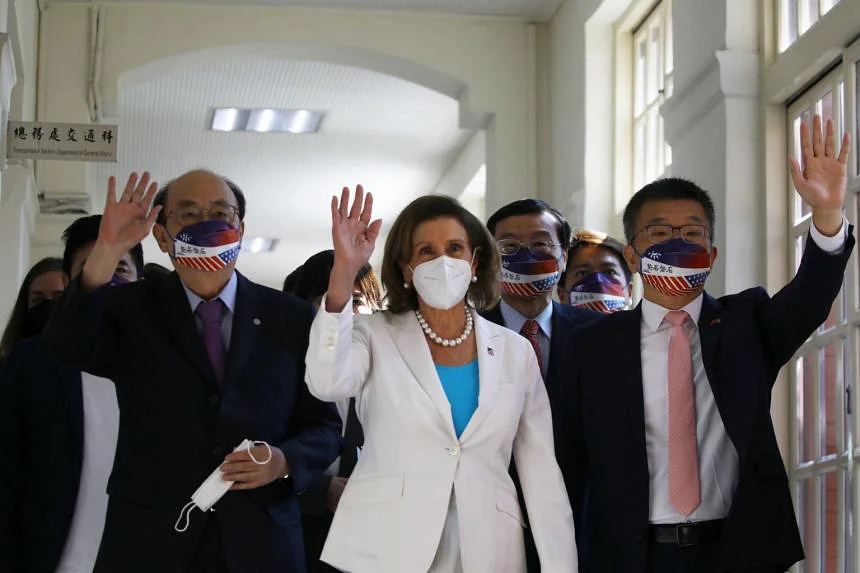 "If you're doing something like fish, then it's more symbolic and not impactful, and now [mainland officials] are looking at how they can move from those symbolic trade barriers to something that's more impactful," said Zennon Kapron, Singapore-based director of financial industry research firm Kapronasia.
Pelosi defied repeated warnings over the trip from Beijing, which regards Taiwan as a breakaway province that must be reunified with the mainland – by force if necessary.
Taiwan needs to import natural sand as a raw material for construction projects, including transport and water conservancy, while it is also used for producing silicon wafers in chip production, which is one of the island's key manufacturing sectors.
It is not the first time that mainland China has suspended natural sand exports to Taiwan. Mainland China's own demand for natural sand has also risen in recent years, while Taiwan's imports from mainland China have shrunk sharply.
Taiwan imported over 75 per cent of its natural sand from China in 2012, but the figure dropped to just over 3 per cent last year.
In the first six months of 2022, Taiwan imported 15,703 tonnes of natural sand – including silica and quartz sands – from mainland China, according to the island's customs figures, which was worth US$934,000, but this accounted for just 1.88 per cent of its total imports.
Australia is Taiwan's biggest source for natural sand this year, accounting for over 48 per cent of its total imports.
It is the third time in two years that mainland China has targeted Taiwan's fruit industry, having suspended imports of pineapples, sugar apples and java apples – the top three fruit exports from Taiwan to mainland China – last year due to the detection of pests.
Taiwanese agriculture minister Chen Chi-chung said that the island's fruit exports to mainland China shrank from 80 per cent of the total to 45 per cent last month.
However, mainland China remains the largest export destination for Taiwan's agricultural products, with the value rising by 10.1 per cent year on year in 2021 to US$1.12 billion, accounting for 19.8 per cent of the total export value.
Agricultural exports, though, make up only a small amount of Taiwan's US$765 billion economy.
Further economic sanctions on Taiwan are expected after Pelosi met the island's pro-independence President Tsai Ing-wen on Wednesday, although officials will avoid hurting Taiwanese people or any chance of peaceful unification, according to Liu Yih-jiun, a public affairs professor at Fo Guang University in Taiwan.
"Once sanctions are applied, for sure they will do an incremental squeezing," Liu said.
"Economically, they are going to do something, but not hurt the Taiwanese people because that will just raise [the sense of] nationalism."
Fishery products, feathers, down and wine replaced fruit as the main Taiwanese agricultural products exported to mainland China after the ban was imposed last year.
Mainland China also banned imports of Taiwanese grouper fish in June due to the detection of "prohibited drugs". Taiwan's grouper exports to mainland China previously accounted for 91 per cent of the island's total export sales and 36 per cent of the total production in Taiwan, according to agriculture minister Chen.
Mainland China's imports of Taiwanese agricultural and food products – including animal products, vegetables, fats and oils, prepared foodstuffs, beverages, spirits, vinegar and tobacco – only accounted for around 0.23 per cent of its total imports from Taiwan in the first six months this year, according to the General Administration of Customs.
Machinery and electrical equipment accounted for over 80 per cent of mainland China's overall imports from Taiwanese this year.
Last year, despite the ongoing tensions, mainland China and Hong Kong combined as Taiwan's top export destination with 42.3 per cent of the overall export value, according to the island's executive branch.
In June, Taiwan's exports to mainland China and Hong Kong reached US$15.428 billion, down by 4.5 per cent year on year, while imports rose by 14.6 per cent year on year to US$7.911 billion.